2013 Priest Ranch Coach Gun
Coach Gun is our flagship wine and has proved to be a favorite among our members and fans. The 2013 vintage of this wine is no exception and as Robert Parker stated, "2013 may turn out to be the finest vintage I have experienced in tasting North Coast varietals over the last 37 years. It's a game-changer in terms of the consistency of quality, the depth of quality, and the across-the-board excellence for so many wines."
Coach Gun is a red blend full of dark berry flavors with a hint of blackcurrant on the nose. Comprised of all five Bordeaux varietals - Cabernet Franc, Cabernet Sauvignon, Malbec, Merlot and Petit Verdot, this wine is truly a favorite among red wine lovers.
"The big, rich 2013 Coach Gun Proprietary Red is a blend of Merlot, Malbec, Cabernet Sauvignon, Cabernet Franc and Petit Verdot. There's actually a whopping 30% Cabernet Franc in it, the biggest component part of the wine. This is a beauty. Sweet licorice, black and red currants, camphor and a touch of charcoal jump from the glass of this opaque ruby/purple-colored wine. Medium to full-bodied, it exhibits complex elements in both its aromatics and flavor profile. It is full-bodied, rich, layered and ideal for drinking over the next 10-15 years." - 92 points, Robert Parker, Wine Advocate - October 2015, Issue 221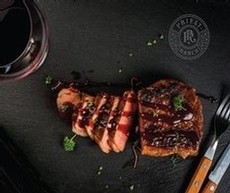 Suggested food pairing: